ELCA Faith Lens's Blog
Weekly Bible studies that engage youth and young adults in connecting world events with the Bible, faith, and everyday life.

Tuesday, April 13, 2021
April 18, 2021–Seeing the Other
<![CDATA[
Bob Chell, Sioux Falls, SD
Warm-up Questions
Do you believe in demons? ghosts?
Have you seen or experienced an encounter with a demon or a ghost?
Is there a world we cannot see?
Seeing the Other
First, some of their names:  John Williams, Michael Brown, Elijah McClain, Robert Long, Breonna Taylor, George Floyd, Dylann Roof, Delaina Ashley Yaun, Hyun Jung Grant, Darren Wilson.  They were police officers and emergency room techs, artists and business owners, hard working and hardly working. Though DNA would almost certainly reveal all as multiracial they identified as African American, White, Native American and Asian American. Shooters and victims.  Law breakers and law enforcement. Their stories unique, yet eerily similar.
We are weary of their stories, their sameness, their sadness. We want to celebrate Easter but looking for Jesus in our broken world seems futile. The gospel challenges us to look harder.
Discussion Questions
Each time a person of color is shot by a police officer, it's a unique, one time situation, yet they are weirdly similar, and happen again and again. Why?
Who or what is responsible for shootings which seem unjustified?  The officer who shoots?  Systematic racism?  Irrational  fear?  Poor judgement?  Lack of  training for those charged with a very difficult job?   What other possible causes can you come up with?
Is the underlying cause unique or part of a troubling pattern?
Third Sunday of Easter
(Text links are to Oremus Bible Browser. Oremus Bible Browser is not affiliated with or supported by the Evangelical Lutheran Church in America. You can find the calendar of readings for Year B at Lectionary Readings.)
For lectionary humor and insight, check the weekly comic Agnus Day.
Gospel Reflection
The disciples think they are seeing a ghost, a supernatural being of some kind. To ease their anxiety Jesus asks for food so that, seeing him eat, they will see him as  their friend and not an apparition.
"The only way I can describe it, it looks like a demon." Those were the words of Darren Wilson, the police officer in Ferguson, Missouri who shot a young African American man, Michael Brown. "It looked like a demon,. So, Wilson said, "I shoot a series of shots. I don't know how many I shot, I just know I shot it."   Not "him", not "Michael", not "a man", a "person", a "teen", Darren, the man.  Wilson said he shot "it."
Set aside the question of guilt and innocence, right and wrong for a moment to consider the nature of what transpired.  For some reason—denial, racism, PTSD, training, or lack of training— police officer Darren Wilson did not see Michael Brown. He did not a person, but a demon, not Michael, but an "it."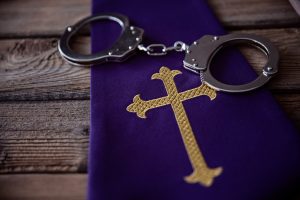 I spent the last four years of my career as a pastor working with ghosts, some would say demons. Like Michael Brown, they are each "other" or "it,"something unlike you and I. Some were called monsters or demons.  They were all inmate, prisoner, or con. Ghosts in khaki who walked the tiers of the South Dakota State Penitentiary.  They were stripped of their humanity by the system which knew them only by their inmate number or their crime. In becoming inmates they ceased to be men and became "other." Other than human, like Michael Brown, they became other than like me.
The disciples  are"startled and terrified", "disbelieving and …wondering."  They watch as ghost becomes man, becomes human, becomes Jesus, the friend and brother  they lost only days before.
________________
It's a mystery. I watched every Thursday night for four years as 12-15 visitors joined 100 inmates in the chapel of the penitentiary.  It is jarring and anxiety producing to enter a prison, to be asked over and over again about cell phones and pocket knifes, tobacco and watches, chewing gum and shooting guns. Then the door to the sally port opens so you can enter. As the electronic gate slides shut behind you, you know what a sally port is without being told, a gate closed behind you, another closed in front of you. Then the same questions.
The gate before you slides open…through the lobby…up two flights of steps…another gate…more stairs and doors…and finally into the upper room, the chapel.  You enter a world unlike that which you just transversed. The smiling men, some bearded or tattooed, some your own age or younger. Others are your dad's age, or your grandfather's. You remember, some came to this place at age 14. Which ones?
The men join in the opening hymn, "I saw the light." They are all singing, not only singing but singing the way you do in a car on the way to the lake with friends, full volume and deep feeling. 
The service is much the same as in your congregation, other than that singing, of course. At least until the Passing of the Peace. Then it's pandemonium, everyone on their feet, moving around the room and greeting visitors and inmates alike.  You realize, at some point, you have forgotten to be scared and are having fun, as the inmates greet you and thank you for remembering them. 
Why do they thank you for remember them?  "It's because most are not remembered," the pastor tells you. Most of the men won't have a conversation with someone from outside the walls who isn't paid to be there until next week's worship. It is a different world.  Prisons are full of ghosts, ghosts in khaki …until they walk through the door to the chapel.   Then 34816 is transformed into Robert who you saw baptized. 74869 is David, a beloved child of God. 28482 is John, he's in the choir.
One of the miracles and mysteries of St. Dysmas* (The ELCA congregations located behind the walls  of the South Dakota State Penitentiary) is a first time visitor's realization, "they're just like us!"  They ARE us. We are 'us.' There is only one us, one kind of people, lots of variety but we are all alike when it's all said and done. None of us is defined by the worst thing we've ever done.  Everyone who comes through the sally port the first time, inmates and officers, visitors and pastors, imagine they are different from them. Whoever they imagine the them to be.
________________
In the seven Sundays of Easter Jesus repeatedly appears to disciples who fail to recognize him, who are filled with fear and confusion, with joy and disbelieving.  What can you glean from Jesus' appearance to his disciples? 
You are not a ghost, a child of a broken home, an irritant to your family, or a hopeless case. You are a beloved child of God.   God has had an eye on you from before the beginning.  God loves you and will never stop loving you—even if you dress in khaki one day.
God knows and God loves you, period.  You may not feel lovable,  and the truth is that sometimes we aren't very loving to each other, or even to ourselves.  But God sees through all that. God knows us and God  loves us.
Jesus came to forgive. Jesus came to heal. Jesus came to raise us up from the deadness of our battered and broken lives, to breathe life into our despair.  Just as Jesus gathered broken people to become his disciples, God calls to you and speaks the same blessing, "Peace be with you."
Discussion Questions
When have you been seen as "other." How did it feel? Has anyone first seen you as other and come to know you as a person?

 

Have you heard or seen people acting or implying as if other people we somehow "less than" or "other?" Did you say or do anything? Why or why not? Do you wish you had responded differently?
Activity Suggestions
This week watch for times of "othering"—in your home, at school, in church and with your friends.  How Does Jesus appearance to his disciples encourage you to respond?
Closing Prayer 
Jesus, help us to recognize those unlike ourselves as sisters and brothers. Break down our hesitancy and awkwardness in unfamiliar situations.  Inspire us to make connections and build bridges when your people are divided. Amen. 
The post April 18, 2021–Seeing the Other appeared first on Faith Lens.
Tuesday, April 6, 2021
<![CDATA[
CeCee Mills, Greensboro, NC
Warm-up Questions
What is your greatest motivation?
What gets you going in the morning or through a challenge?
What gives you the greatest energy?
Finding Hope
A year ago, we were all adjusting to an interruption. We expected that things would soon go back to normal. None of us imagined the loss of so many big milestones in the lives of students across the country. In-person school went away. Spring break went away. Proms went away. Graduations went away. Sports went away. So much that was a part of everyday life just went away.
The pandemic hit us so fast and so hard, we were initially just waiting for it to go away. But it did not go away. It still has not gone away.
The way we will get through the rest of the pandemic is by looking for the glimpses of hope. I search for evidence of God's resilience and love. It helps me. Hearing about acts of kindness, seeing God's creation, noticing small miracles, and marking progress of any kind are beacons of hope and light for me. Sometimes it is a random picture of a puppy or a powerful scripture.  Maybe it's an inspiring quote or the voice of a friend. I thank God for these daily reminders of God's wonderful abiding presence.
Discussion Questions
What new habits have you or your friends began to help deal with life in a pandemic?
How can you create new habits to help you see God's presence every day?
Second Sunday of Easter
(Text links are to Oremus Bible Browser. Oremus Bible Browser is not affiliated with or supported by the Evangelical Lutheran Church in America. You can find the calendar of readings for Year B at Lectionary Readings.)
For lectionary humor and insight, check the weekly comic Agnus Day.
Gospel Reflection
In the Gospel reading, we see the new reality the disciples face with Jesus' absence. They are afraid and in hiding. The life that took them to strange lands with a teacher who performed miracles and spoke with true authority is over. Like us in this pandemic, they hope this scary time will end. The disciples hope that those who killed Jesus are not looking for them anymore. They want to stop feeling anxious everyday and worried about dying. They want their Rabbi back.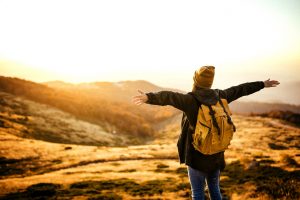 Then Jesus comes into their midst and lets them explore his wounds. Jesus relates to his disciples through the evidence of his suffering – it is their confirmation that he is the risen Christ. He breathes on them and gives them a new dose of hope. They do not return to the life they had with Jesus or the life they had before following him – they enter a new season. It is a post-resurrection season where they continue God's mission without Jesus' physical presence.
They have to let go of the yearning to go backwards and look at what lies ahead. It must have been amazingly hard to let go. It must have been amazingly wonderful to see Jesus again and witness the signs. It must have felt like confirmation of their call to be disciples. Jesus gives them the hope they need to complete their journey.
Jesus still does that for us. He fully recognizes the likelihood that we will hide our faith if we think it will offend or attract unwanted attention. He knows this and allows us seasons like Lent to focus on the wounds of Christ, so that we understand the cost. Yet that season is followed by the resurrection joy of Easter, which reminds us that by those stripes we were healed for a new day. We journey into the future, fully aware of the shadows, but expecting the illuminating light. We know God knows our questions and doubts. 
Jesus acknowledges the disciples fears as he accommodates Thomas' need to touch the wound. And God knows your questions and doubts. They do not surprise God because God knows the full story. God knows the hope you need to keep you on your journey.
Discussion Questions
How does God confirm who God is with you? Is it a song? Or a feeling? Is it by words or images?
Once you get that confirmation, how can you share that experience with others?
How can you help others to see how God provides confirmation for them?
Activity Suggestion
Pay attention to how you experience, witness, or feel hope during this pandemic in the next week. Share that hope with two people who are close to you and one who is not so close. Begin to imagine why God keeps you hopeful. How do you see God using you at this time to share the hope of Christ? Create a tangible object or picture that can be a reminder of the hope God provides. Put it in a place that is most helpful for you to see it and be reminded.
Closing Prayer
Dear God, you are so patient with us, even when we have lost patience ourselves. Thank you for abiding with us at all times and giving us hope in you. Help us be aware of the ways you reveal yourself and the ways you are present with us. Help us to share that with others. Amen
The post April 11, 2021–Finding Hope appeared first on Faith Lens.
Tuesday, March 30, 2021
April 4, 2021–Living Your Passion
<![CDATA[
Steve Peterson, Moorhead, MN
Warm-up Question
Have you ever been so fired up about something you were doing that you lost all track of time.  You lost any sense of being self-conscious about how you were being seen by others, just getting lost in doing something you believed in, found joy in doing?  Can you describe what you were doing and what that experience was like for you?
Living Your Passion
Who do we think of as influential people, people who make a difference in the world, communities, or among family and friends? What qualities do we think of when we think of influential people?  TIME  magazine in early March of this year published a double issue featuring brief articles about those chosen as the 100 next most influential people.  Many of the articles were written by previous Time 100 alumni.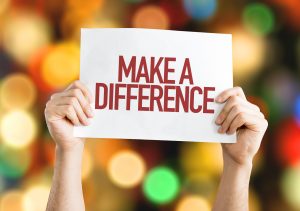 For example, Greta Thunberg, TIME's 2019 Person of the Year, writes about Vanessa Nakate, a 24-year-old climate justice champion from Uganda.  Her African country is one the regions of the world most exposed  to the adverse effects of the climate crisis. Nakate is making a difference through her Rise Up movement.  She started the Green Schools Project to transition schools in Uganda to solar energy and champions education and empowerment for girls and youth women. She is a powerful example of what one young woman with passion for something she believes in can do.
The rest of the TIME's 100 Next list includes, "doctors and scientists fighting COVID-19, advocates pushing for equality and justice, journalists standing up for truth, and artists sharing their visions of present and future."   Altogether, TIME describes these Next 100 Influential people as being characterized by, in the words of composer, lyricist and actor Manuel Mirander, "clear-eyed hope."
Discussion Questions
What do you think motivates people who have a great positive influence on the world, their communities, and their friends and families?
What do you think either blocks or encourages people from "reaching for the stars" in terms of following their beliefs and passions and using their gifts in influencing positive change in the world?
Resurrection of Our Lord
(Text links are to Oremus Bible Browser. Oremus Bible Browser is not affiliated with or supported by the Evangelical Lutheran Church in America. You can find the calendar of readings for Year B at Lectionary Readings.)
For lectionary humor and insight, check the weekly comic Agnus Day.
Gospel Reflection
Of the four gospel accounts of Jesus' resurrection (Matthew, Mark, Luke and John) Mark's resurrection story might seem the least fun and satisfying.   Beyond a few common details, it feels like there is more going on in the other gospel's.  More conversation, more angel intrigue, more dramatic action.  We get the sense in the other gospels that we can linger a bit in satisfaction and delight.  We feel a little more like celebrating after reading the other gospel accounts of the resurrection.  
In Mark, it's just the facts:  He's not dead anymore, he has been raised, tell the disciples, you can see him  back home in Galilee, he's not here. That seems to be the point in Mark; he is risen, get going and meet him in Galilee!  So, they flee in terror and amazement, afraid to tell anyone.  Full stop.  What is this all going to mean for them?
They knew what he was like before rising from the dead… stirring up all kinds of good trouble, holy trouble.  Healing the sick, feeding the hungry, breaking down barriers between people which some powerful people don't want broken down.  He brought hope to the broken-hearted and release to all kinds of people, including some people not everyone wanted freed.  He brought the Kingdom of God that he talked about.  If that was what Jesus was like before, they must have wondered, what kind of good trouble will he get into now that he had risen from the dead?  And they are supposed to meet him back in the neighborhood! Maybe that's part of their terror and amazement, wondering what more might happen!
Maybe this gospel's resurrection story is pretty exciting after all!  Like the disciples, we are told to meet Jesus in our neighborhoods!  Jesus has risen! He is meeting us in our neighborhoods, calling us to live his resurrection life with him. We are not alone.  He is meeting us there; giving us the passion and gifts to make a difference in the world—feeding the hungry, healing the sick, telling the truth, tearing down walls between people by proclaiming and living Jesus' love for all people, and giving "clear-eyed hope." Jesus is risen, and he is calling us to live his resurrection hope and be an influence for his hope in our world today.
Discussion Questions
How might Jesus be present now in your neighborhood, school, community, and church?
Where might you meet Jesus in your neighborhood?

 

What are some examples of what that might look like, how that might happen?

 

How might Jesus use your gifts, talents, and passions  to be his presence in your neighborhood and in the world today?
Activity Suggestions
Ask an adult where they see Jesus in your neighborhood and what they think Jesus is doing or would like to do in the neighborhood.  Take a walk or bike ride around your neighborhood.  Where do you see Jesus?  Where do you imagine Jesus' resurrected presence might  offer someone "clear-eyed hope" and love?  Imagine other neighborhoods you have seen or heard of, anywhere in the world…imagine Jesus in those places…
Closing Prayer
Risen Jesus, thank you for showing us your power over death and all that brings death, sadness, hurt and suffering in the world.  Make us instruments of your resurrection love and power in the world.  Help us to live your resurrection hope in our neighborhoods. Amen
The post April 4, 2021–Living Your Passion appeared first on Faith Lens.
Tuesday, March 23, 2021
March 28, 2021–Provocative Palms
<![CDATA[
Leslie Weber, Chesapeake, VA
Warm-up Questions
Have participants talk about what their experience of Holy Week has been in the past.  Possible conversation starter questions include:
Does the congregation you attend "celebrate" Palm Sunday on its own or combine it with Passion Sunday?
What ritual actions are meaningful to you on Palm/Passion Sunday? (waving palms, being part of procession, having a real live donkey, hearing the whole passion story, etc.)
Have you ever attended a Maundy Thursday worship service? What do you remember?
Have you ever attended a Good Friday worship service? What do you remember?
Have you ever attended an Easter Vigil worship service? What do you remember?
If you haven't ever attended a worship service during Holy Week (Maundy Thursday/Good Friday/Easter Vigil), why not?
Provocative Palms
Recently, the Miami Beach City Commission approved an urban forestry master plan.  The goal of the plan is to reduce the proportion of the city's canopy made up of palm trees to 25% by 2050.  By increasing the number and percentage of other trees that provide more shade in the city, they hope to extra comfort for residents and visitors, while also helping to "reduce urban warming, improve air quality, and absorb more carbon and rainwater."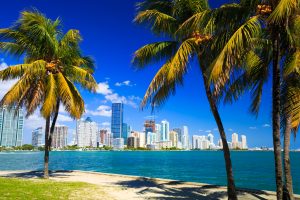 The master plan was passed unanimously, but now one city commissioner is speaking out against how the plan is being implemented.  He and his staff are encouraging residents to oppose removal of palm trees as part of construction projects around the city.  He is worried that as the prominence of palm trees diminishes in the city's overall canopy, the city's "historic, cultural, and economic brand" will suffer.  The city commissioner's aide commented "if this plan goes forward, they might as well remove the palm from our City's official logo."
The city's environmental and sustainability director is speaking out in opposition to the city commissioner's concerns, saying that the "city is not going around chopping down palm trees" and that at 25% of the total canopy, "palms will continue to be a focal point along the city's roads, greenspaces, and parks," even while shade trees are planted as a faster rate in order to "maximize the environmental, social, and economic benefits of trees."
Full article: https://www.miamiherald.com/news/local/community/miami-dade/miami-beach/article249432995.html
Discussion Questions
What are the pros/cons of Miami Beach's plan to reduce the percentage of palm trees in the city's canopy over the coming decades?

 

(This is a great chance to practice considering all sides of an argument.)
List all the ways that you benefit from trees.
What are you, your household, your congregation, and your local government doing in response to or in an effort to slow climate change?
Sunday of the Passion/ Palm Sunday
Mark 15:1-39 [40-47] (alternate)
(Text links are to Oremus Bible Browser. Oremus Bible Browser is not affiliated with or supported by the Evangelical Lutheran Church in America. You can find the calendar of readings for Year B at Lectionary Readings.)
For lectionary humor and insight, check the weekly comic Agnus Day.
Gospel Reflection
Even if you don't read any of the optional parts (Mark 14 and 15:40-47),  this Sunday's gospel reading is long.  You may be familiar with the basic story, but the details vary across the four Gospel accounts.  It is easy to overlook some parts during Holy Week.  This is why it is helpful to hear the story as a whole on Palm/Passion Sunday, and then break it up into shorter texts.  During Holy Week we hear short parts of the story, paired with ritual actions (Palm/Passion Sunday—procession with palms; Maundy Thursday—foot washing, Holy Communion, stripping of the altar; Good Friday—procession and adoration of the cross).
It is undeniable that this story is full of people and groups who have different expectations, hopes, and either a readiness or reluctance to change. Just in Mark 15:1-39, we get a glimpse of various people's values/priorities:
The Jewish Leadership (chief priests, scribes, elders, whole council) is in search of a way to get rid of Jesus and keep their position as the religious authority (Mark 14:1).
Pilate is amazed by Jesus' answers (and lack thereof) to the charges brought against him (Mark 15:5) but also wants to keep the crowd calm (Mark 5:15).
Jesus Is committed to in-breaking the kin-dom of God. Although he would prefer an easier way, he is committed to doing what needs to be done (Mark 14:36).
Barabbas and rebels are willing to kill in order to change the status quo (Mark 15:7).
The Centurion sees and confesses that Jesus is "God's Son," despite his position and background.
Throughout Jesus' life, we see God working to turn the world upside down, to reorient people's priorities, to make our world and lives look a bit more like God's original intention for a creation where no one lacks anything.
God was never confined to the temple in Jerusalem.  We confess that Jesus is God incarnate, in-fleshed, but the tearing of the temple curtain at the moment of Jesus' death is a sign.  It wasn't torn from bottom to top (as it would have been if torn by human hands), but "was torn in two, from top to bottom" (Mark 15:38), as if today God has left the building.  Today God  moves among and through each of us to enact all that for which Jesus preached, worked, and ultimately died and was raised.
Discussion Questions
Read the text. What parts of the story jumped out to you as you listened this time?
Were there any parts that you did not remember or remembered differently?

 

(Having a synopsis or parallel edition of the four Gospels would aid in comparing the details between the accounts.)
With which character in the story do you most identify and why? How do their values/priorities compare to your values/priorities?
How do you feel about change?

 

Is there is something in your life, congregation, community that might need to end/die in order for something new/better to be established and flourish?
Activity Suggestions
Find a creative way to hear and experience the whole Holy Week story.

 

Examples: there are YouTube videos of the Stations of the Cross, you can a buy or make a set of "resurrection eggs," or (if it safe to gather and weather permits) walk around the church property or neighborhood, reading a different part of the story in a different location.
Make space for everyone to reflect on the story of Jesus' Passion.

 

Provide art supplies for doodling, offer paper and pencils for journaling, set up a prayer labyrinth, or any other means of personal or group reflection that your group would find helpful.
Palms

If you congregation is supplying palms this year, learn about your congregation's palms:

From what company do you order them?
Where are they grown?
Are they sustainably raised? (think about the environment and labor practices)

If your congregation isn't supplying palms this year, use construction paper (or other craft supplies) to make your own palms to use during the service.

 

You can search the internet for ideas about how to do this, but an easy one is to trace your hand on green paper, cuts out 5 or so "copies" and then glue them onto a popsicle stick.
Closing Prayer 
Redeeming God, thank you for all that you have given us, especially the gift of eternal, abundant life.  Help us to know and work for your intentions in our lives and our world.  Amen.
The post March 28, 2021–Provocative Palms appeared first on Faith Lens.
Tuesday, March 16, 2021
March 21, 2021–Of Fruit and Seeds
<![CDATA[
Dennis Sepper, Rosemount, MN
Warm-up Question
Have you ever had anything go really wrong but it ended up being just what you needed?  What was that like?
Of Fruit and Seeds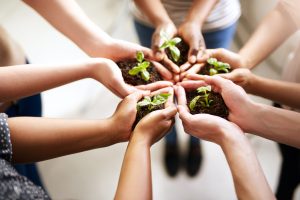 At the inauguration of President Joe Biden and Vice President Kamala Harris, the world was introduced to a 22-year-old poet, Amanda Gorman.  Her poem, "The Hill We Climb," delivered with such poise and passion, launched her into the spotlight of fame.  Sitting just feet away from her that day was former First Lady Michelle Obama.  In the February 18/February 23, 2021 issue of Time magazine, Ms. Obama interviewed Amanda Gorman about that day and about her work.  At one point Ms. Obama asked Amanda about the influence art can have on social change.  Ms. Gorman answered "Absolutely.  Poetry and language are often at the heartbeat of movements of change."  She noted how words and images can convey meaning.  She then recalled how at a Black Lives Matter rally she saw a banner that read, "They buried us but they didn't know we were seeds."  The image that those words conveyed touched Ms. Gorman very deeply.
From small beginnings, when things look at their worst, great things can arise and grow and bear much fruit.  In many ways Ms. Gorman was correct.  Women won the right to vote after many thought the movement was dead and buried.  Same with the abolitionist movement, the civil rights movement, the LGBTQ movement, and many others.  Many of those who worked for the above rights never saw the fruits of their labors, but, unknown to them, they were the seeds that bore fruit many years later.  
Discussion Questions
Listen to or read Amanda Gorman's poem, "The Hill We Climb"
What seeds do you think Amanda Gorman is planting in her poem?
 What fruit do you think Amanda Gorman is hoping her seeds will bring forth?
Fifth Sunday in Lent
(Text links are to Oremus Bible Browser. Oremus Bible Browser is not affiliated with or supported by the Evangelical Lutheran Church in America. You can find the calendar of readings for Year B at Lectionary Readings.)
For lectionary humor and insight, check the weekly comic Agnus Day.
Gospel Reflection
This week's gospel begins in a curious way.  Jesus and the disciples are in Jerusalem anticipating the Passover feast.  Some Greeks are also in the city and finding Philip, a follower of Jesus, they ask to see Jesus.  However, notice that Jesus never goes to see the Greeks nor does Jesus invite them to come to him.  Instead Jesus sees this request from the Greeks as a sign that his hour has come to be crucified and to die (The gospel writer John always sees Jesus' death as an act of glory.  That is why Jesus says, "The hour has come for the Son of Man to be glorified.")
Then Jesus creates a very interesting image:  "Very truly, I tell you, unless a grain of wheat falls into the earth and dies, it remains just a single grain; but if it dies, it bears much fruit."  This image only makes sense when we know that Jesus is in Jerusalem for the last time.  Within days he will be arrested, tried, crucified, and will die.  Jesus is the grain and the cross is the instrument that places Jesus in the earth.
But we also know what happens three days after that. Jesus rises from the dead and you and I become the fruit of that grain dying and rising.  The fruit we bear is the proclamation of the gospel, the announcement of God's grace and salvation and service to others that Jesus has shown in his service to us.  Indeed, Jesus is telling the truth; as we lose our lives in service to others we find it.  We see that real power lies in giving it to others, that we are leaders when we become servants to others.  This is the fruit we bear because Jesus became that grain of wheat  laid in the earth.  He rose to become the mighty branch from which we live, and move and have our being. 
But there is more.  In our baptism we proclaim that we also die with Jesus and rise to newness of life (see the beginning declaration of the Holy Baptism service, Evangelical Lutheran Worship, page 227, and St. Paul's words in Romans 6:4).  In that way, we are also seeds…seeds which bring forth peace, justice, love.  Every act of love, mercy and forgiveness, however small, can be a seed of change in the world. We might never see the fruit of the seed we plant, but we trust that God will cause it to grow and bear fruit.
We are both fruits of Jesus' grain of wheat and seeds in our own right.  Good news indeed!
Discussion Questions
What things do you have a passion for?

 

Sports?

 

Music?

 

Climate change?

 

Rescue animals?
Where and how were the seeds for that passion planted in you?  Was it something you saw on social media?  Was it something someone said to you or told you about?
Seeds and fruit are not just a part of an individual's life; they are also a part of a community's life.  What kind of fruit does your church community bear?  What seeds are your church planting in the neighborhood where it is located?  How can you be a part of that fruit bearing and seed planting?
Activity Suggestions
Ask an adult family member how they came to pursue their calling (occupation or hobbies or social concerns).  Where were the seeds planted for them in their past to be interested in their calling?  What fruit do they hope to bear in the future?
Closing Prayer
Loving Jesus, throughout your life you sought to plant seeds of love and justice in people and in communities. In this Lenten season, send your Holy Spirit upon us that we might bear the fruit of your death and resurrection wherever we are planted, and by your grace, may we plant the seeds of your love in all those we meet today and every day.  Amen
The post March 21, 2021–Of Fruit and Seeds appeared first on Faith Lens.
Tuesday, March 9, 2021
March 14, 2021–What's in a Font
<![CDATA[
Colleen Montgomery, Salem, VA
Warm-up Question
What is your favorite font? Your least favorite font? 
What's in a Font?
What's in a font? 
 A recent episode of NBC's Zoe's Extraordinary Playlist contained a conversation between Mo (Alex Newell) and Max (Skylar Astin) about the menu for their new restaurant. Mo brings immense creative and relational wisdom to the duo, while Max is the details and tech part of the team. Mo asks Max to help decide on a font, saying the font needs to be something that both shows whimsy and strength. Max responds, "Like Cambria?"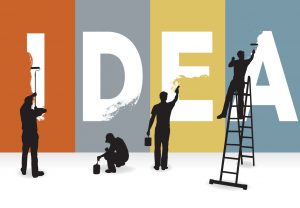 Perhaps for Max, Cambria is a whimsical font, but most people would not describe it in that way. As silly as it may seem, people have strong font preferences and oftentimes intense reactions to particular fonts. We recognize fonts that go with a particular brand or that are used on a particular social media platform. Our teachers ask for papers to be written in a particular font. Our employers might have similar requests as well. And I bet if you ask your pastor, they have a set font that they print their sermons in each week. (I used to be exclusively Century Gothic, but have made the shift to Calibri in recent months.)
But did you know that even fonts can be political? 
A CNN article summarizes the findings of a 2019 study published in Communications Studies that researched the political polarization of fonts. "What's in a font?: Ideological Perceptions of Typography," breaks down which fonts are seen as more conservative or liberal and begins to explore the use of such fonts in political campaigns. They invite reflection on people's reactions to the font and the formatting of messages, not just on reactions to the content alone. It seems that the font we use to tell the story may influence how people read it. 
Discussion Questions
Is there a story or message you would dismiss entirely based on font alone?

 

What other things, previously perceived as neutral, have become politically polarized in recent months?

 
Fourth Sunday of Lent
(Text links are to Oremus Bible Browser. Oremus Bible Browser is not affiliated with or supported by the Evangelical Lutheran Church in America. You can find the calendar of readings for Year B at Lectionary Readings.)
For lectionary humor and insight, check the weekly comic Agnus Day.
Gospel Reflection
John 3:16 is one of the most well known verses in the whole bible. If people know any verse by heart, John 3:16 is probably it. We see it on billboards, social media posts, sports jerseys, and bumper stickers. Lutherans see this verse as one of grace and evidence of God's love. However, not all Christians interpret the verse in this way. Even this most dear biblical verse can be used in a political and divisive manner. 
Some look at Jesus' words, made to Niccodemus in the middle of the night, as an exclusionary verse. A directive about who is in and who is out of heaven. Some interpret this verse, especially the second half of the verse, to say that only those who believe and confess Jesus as Lord will be saved and permitted into heaven. With this interpretation, this verse becomes divisive, exclusionary, and even threatening. 
Yet, with a closer examination of the verse and continuing reading, we see more clearly the Lutheran interpretation of grace and inclusivity. Jesus does not say that just those who believe in him will be given eternal life. He is not making an exclusive statement. Jesus only says that those who believe will be given eternal life. He does not make any statement about those who do not believe in him here. Moreover, Jesus goes on to say in 3:17 that Jesus has come not to condemn the world, but rather to show love and to save the world. As Lutherans, we profess that it is the grace of God that saves us, and there is nothing we can do—including believe in God on our own- that can save us. 
Jesus' words are often political and can be divisive. However, the gospel of Jesus invites, rather than excludes. It brings in, rather than casts out. It goes to the margins and the shadow places to bring hope and new life. The radical love of Jesus may cause some to walk away, however it is this radical love that I need, and maybe you need too. 
Discussion Questions
What other biblical verses have you heard used in an exclusionary way? How have you come to interpret them through a lens of grace?

 

How does this radical love of Jesus empower you to live your daily life and interact with people who are different from you?

 
Activity Suggestions
Use Canva (canva.com)

 

or another graphic design program to create a poster sharing the radical love of John 3:16-17 (or another favorite verse). Share these on your own social media or on the churches platforms.

 

Look at your church's website and social media accounts. Are the fonts, images, and content welcoming? Do they proclaim the gospel that your church believes in?

 

John 1 tells us Jesus is the Word of God and that all life came into being through Jesus. Including you! This means that Jesus loves all of you and your handwriting is one of Jesus' favorite fonts. Draw a picture of yourself (stick figures allowed) and write Jesus loves me on your body. Or, take a washable marker and write it on your actual body.

 
Closing Prayer
Dear Jesus, You are the Word of God made flesh. Empower us to live out the gospel with all that we are: our bodies, our minds, and our words. Remind us daily of your grace and love for us and help us to share that grace with others. Amen. 
The post March 14, 2021–What's in a Font appeared first on Faith Lens.