ELCA Faith Lens's Blog
Weekly Bible studies that engage youth and young adults in connecting world events with the Bible, faith, and everyday life.

Tuesday, May 21, 2019
May 26, 2019–Circumstances are not Crippling
<![CDATA[
inspired by Sylvia Alloway, Grenada Hills, CA 
Warm-up Question
When you hear the words "made well," what comes to mind?
Have you or anyone you've known lived with a disability?
 The website for ELCA Disability Ministries notes, "All of us are disabled in some way as we stand before God." How might we relate with a person with a disability in ways that honor their gifts and our own?
What motivates us to help another person, their need or our desire to to feel good about helping?
Circumstances are not Crippling
Most people have heard of Joni Eareckson Tada, the woman who's arms and legs entered paralysis at 17 after breaking her neck in a diving accident. It is hard to imagine how a young athlete could deal with the fact that she was not going to be healed, but famously, Joni did. Rather than being physically healed, she learned to paint by holding the brush in her mouth. She founded "Joni and Friends," a ministry that helps persons with disabilities and their families reach independence, physically, financially, and spiritually. 
Does that mean that Joni is spiritually more confident and that her disability no longer leads her to experience sadness or uncertainty?  Not at all. In a meditation she wrote on the 50th anniversary of her accident she confesses her early despair and the ways she tried dealing with it: drinking and socializing with "dark companions" – and how the memory of those days still haunts her. The efforts of Christian friends, who studied the Bible with her, included her in their social events, and shared words of wisdom with her, saw Joni as a person with many gifts to offer the world and helped her see them in herself as well.
God does not allow personal suffering because he likes giving people pain. Yet God can miraculously bring beautiful results from difficult life circumstances, strength from weakness, and joy from sorrow. The trouble-free lives we sometimes wish we could live would only hinder us from becoming the strong, dedicated people our loving God wants us to be.  Most importantly, God is with us on our life journey through all our days, difficult or easy.
Discussion Questions
Who are the people in your life who have helped you along your journey?
What might have happened to Joni's life if other Christians had done nothing but tell her to cheer up or assure her that "All things work together for good to those who love God," rather than becoming a part of her life?
Joni's experience gave her the desire to help others with similar life experiences. Has anyone ever helped you through a hard time and how did they help you? Or have you have helped another person through a hard time and what did you do?
Can you think of a way that God has turned a disappointment in your life or someone else's life into an unexpected gift? What happened?
Sixth Sunday of Easter 
(Text links are to Oremus Bible Browser. Oremus Bible Browser is not affiliated with or supported by the Evangelical Lutheran Church in America. You can find the calendar of readings for Year C at Lectionary Readings
For lectionary humor and insight, check the weekly comic Agnus Day.
Gospel Reflection
The man in today's Gospel lesson from John 5, may have felt like giving up. His paralysis is said to have lasted 38 years.  His disability had become a way of life.  We may think he had a right to his self-pity, but what good would come from that?  Jesus came and asked him if he wanted to get well. 
What was his response? "Oh, yes!" "Absolutely!" "More than anything!"  No. He answers with all the excuses he has been rehearsing for years for why he can not get in the pool, and not be healed, including blaming others.
Jesus sometimes healed people based on faith, their recognition of their need for him. But not this time. Jesus interrupts the man's sense of not belonging with a strong command. "Get up! Pick up your mat and walk!" The man needed more than a healing of his body, a holistic healing was called for.  He takes his first positive action in 38 years. He gets up. He obeys Jesus' command and he confidently walks.
Few people experience a life-long disability like Joni's.  Yet we all have things we believe we are not capable of.  Joni's friends encouraged Joni and she in turn has helped other people.  Yes it takes courage and sometimes there is risk. Our world would be a better place if we followed Jesus' example and helped each other walk "well."  And if we do this, the result might just be miraculous.
Discussion Questions
What stood out the most for you in the scripture?
How were you challenged?
Do we ask someone before we help, as Jesus did?
Why do you think Jesus healed the paralyzed man, despite disbelief?
We don't have Jesus' miraculous powers, but we can promote and receive healing alongside others. Share some ways in which we can do this.
Activity Suggestions
Closing Prayer
Dear God, we don't always understand why you allow your people to experience pain or the inability to change.  It is hard to suffer or watch our loved ones suffer.  Give us the assurance that you are always with us even as we endure difficult times in our lives. Help us to see the needs of others and share your love with them and bring to our attention examples of those who shine with joy even in their sorrows. Give us strength to follow these examples and give you praise for what you are able to "make well" in each and all of us.  Amen.
The post May 26, 2019–Circumstances are not Crippling appeared first on Faith Lens.
Tuesday, May 14, 2019
May 19, 2019–Transforming Moments
<![CDATA[
Bob Chell, Sioux Falls, SD
Warm-up Question
What event has shaped and changed your life more than any other?
Transforming Moments
Yet again the nation is dealing with a school shooting, this time on the campus of UNC-Charlotte.  On May 1, a young man entered a classroom and began shooting.  Two were killed and four were wounded.  Police were unclear as to the possible motives of the shooter.
According to one news account, Sophomore Joshua Ayers, 20, was in the classroom when the shooter entered. The liberal studies class has about 100 students, but only about 30 were on hand Tuesday for final presentations, one of which was underway when the shooting began, he said.
"All of a sudden, the door on the north side of the room slams open. A guy rushes in, pulls up a gun with his right hand … and began firing at the far north corner table," Ayers said. "He didn't speak a word — just ran in and started shooting.
Public officials from around the country decried the new violence, but it was not obvious what changes, if any, might be undertaken to prevent or minimize the impact of such random acts of violence in the future.
Discussion Questions
This event will shape and change the rest of Joshua Ayer's life.Will this event shape his life for better or for worse? Why?
How could this event have a negative impact on Josh's life?
How could this event have a positive impact on Josh's life?
How could this event have a negative impact on YOUR life?
How could this event have a positive impact on YOUR life?
Fifth Sunday of Easter
(Text links are to Oremus Bible Browser. Oremus Bible Browser is not affiliated with or supported by the Evangelical Lutheran Church in America. You can find the calendar of readings for Year C at Lectionary Readings
For lectionary humor and insight, check the weekly comic Agnus Day.
Gospel Reflection
You may know the name Riley Howell. Or perhaps the name is vaguely familiar.  Riley Howell, a student at the University of North Carolina, rushed a shooter, knocking him off his feet as the shooter took Riley's life. One can't help but ask, "What would I have done?" or "If I am in a similar circumstance what will I do?" Nearly all of us would begin our answer both questions saying, "Well, I hope I would…" Hopefully, that is a question we will never have to answer.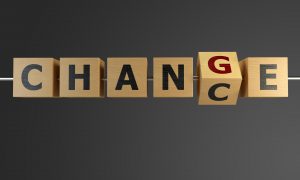 However, there is a second question we must answer. How will tragic events shape and change my life?  I wish I could tell you it will shape your life in positive ways if you make good choices, or draw positive meaning from an horrific event but this is only partially true.  I suspect there wasn't much of a decision process for either Riley or Joshua that day and perhaps if the places they were standing or sitting in class that day were reversed their responses would have been reversed as well. We can speculate and imagine and hypothesize all day but we won't be any closer to knowing.
Initially, all any of us can do is react when tragic events occur and persevere in their aftermath. If the event is across the state or across the world, no matter how tragic it may be, it rarely disrupts our daily lives. But when we are Joshua Ayers, the one who was there, we cannot escape it's impact.
There may be a day when Joshua will utilize this event to motivate himself to a life of service to others. Or, perhaps he will try to numb his pain with chemicals, or things or experiences and fill his days and his life so full there is no room for the pain.  We can't know, even he can't know at this point. He, like all of us, will do the best he can.
So, you may wonder, what does this have to do with Jesus command to "Love one another."?  The real question isn't what impact this event will have on Joshua's life or yours, the real question is the one young adults come to hate. The question that comes from your parents, grandparents, and every relative and family friend over twenty five years old—and nearly every time you see them—"So, what are you going to do with your life?"
Sadly, this brief reflection will not answer that question for you.  But I can tell you there are events and experiences in your life that will bring meaning and purpose into focus, if only for a short time.  When Jesus died scripture says the curtain in the Jerusalem temple was torn from top to bottom. The temple was where people worshiped and the curtain was to protect people from stumbling into the "Holy of Holies,"because confronted with God's power and majesty they would die.  The significance of the curtain tearing is that God's power and majesty is most clearly revealed in the death and resurrection of Jesus Christ. Now the transcendent is accessible and God is here.
When we celebrate Holy Communion our liturgy speaks of "a foretaste of the feast to come."  We believe God's Spirit is present in the water of baptism and the bread and wine of Holy Communion. Yet, God's Spirit is not shackled to the font and the altar. Scripture compares the Spirit to the wind, blowing where it wishes.
You may have experienced the wind of the Holy Spirit in your life already. Great tragedies or great joys reorient our lives as we suddenly see things as if we've never seen them before. The birth of a child or the death of a loved one transforms what we thought important minutes before into insignificance. We realize it was never as important as we thought.  These are times when the curtain is torn in our lives and catch a glimpse of the kingdom of heaven and the true value of things.
Jesus says the words in this week's lesson to his disciples just prior to his death, his crucifixion, and the tearing of the temple curtain. He is not giving his disciples a final order he knows they cannot fulfill, but an invitation. An invitation to a new way of seeing the world and a new way of being in the world.
No one seeks suffering, yet it comes to each of us. When it comes your way listen for the wind, watch for the the breath of the Spirit leading your through the suffering into God's good promises.
Discussion Questions
What does it mean that Jesus has been glorified?
The author of the reflection above says Jesus gives the disciples an invitation but Jesus says it's a commandment, which is it and what difference does it make? Can it be both?  How do you hear it for you, as a burden or an invitation to a deeper more meaningful life? Something else?
Activity Suggestions
Is there someone you know whose life has been shaped and changed by tragedy? Did anything good come out of that event or experience?
Ask an adult who you have deep respect for, "What was the worst thing that happened in your life and how did it shape and change your life?"
Closing Prayer
Loving God, you have blessed us in too many ways to count, yet we still struggle. We struggle to comprehend evil in the world and why we sometimes say and do hurtful things. Pour your healing Spirit into our hearts when they are broken and give us wisdom to discern your Spirits presence in the midst of deep and unremitting suffering.  Amen.
The post May 19, 2019–Transforming Moments appeared first on Faith Lens.
Tuesday, May 7, 2019
May 12, 2019–How Do You Know the Truth?
<![CDATA[
Jen Krausz, Bethlehem, PA
 Warm-up Question
Warm-up Question: When you hear someone's testimony, do you tend to believe it or question it? Why?
How Do You Know the Truth?
On Wednesday May 1, U.S. Attorney General William Barr gave testimony to the Senate Judiciary Committee about his handling of the release of special counsel Robert Mueller's report about his two-year investigation into President Donald Trump.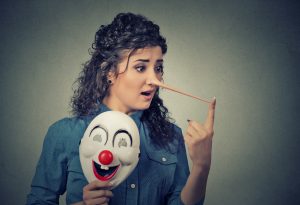 Mueller investigated whether President Trump colluded with Russia during the 2016 presidential campaign, which would have been illegal. Collusion means working together, which a presidential candidate is not allowed to do with a foreign power like Russia.
Barr faced questions on Wednesday because of his summary of the March 22nd report. Democrats in Congress think Barr has been too partial to Trump and has not been objective about the report.  Barr's summary said that the report showed no collusion with Russia and was inconclusive about some possible instances of obstruction of justice. Democrats have said that the full report could show some wrongdoing by the President and his administration.
In his testimony, Barr defended his summary against aggressive questions from some Democrat senators, some of whom accused him of being "purposely misleading" and "lying to Congress."  Barr refused to appear at a parallel hearing before the House Judiciary Committee, which is controlled by Democrats and might have involved questions from lawyers as well as lawmakers.
Trump has called the report a "complete and total exoneration." Not all Democrats see it that way, however, Democrat party leaders have backed off on calls to impeach Trump since seeing the report."  Still, many remain unsatisfied with Barr's answers.  "Mr. Barr, now the American people know that you are no different from Rudy Giuliani or Kellyanne Conway or any of the other people who sacrifice their once decent reputation for the grifter and liar who sits in the Oval Office," Senator Mazie K. Hirono, Democrat of Hawaii, said to Barr. Giuliani is Trump's personal lawyer and Conway is White House counsel.
Discussion Questions
Clearly, there is strong disagreement concerned the truth of Barr's testimony.  What are some ways you might be able to tell whether someone is being truthful?
Is truth always black and white?  Is it possible for there to be honest disagreement over what something means?
What are some of the possible consequences of giving false testimony?
How does false testimony relate to the Ninth Commandment, "You shall not bear false witness against your neighbor"?
Why might someone not be truthful when testifying about something?
Fourth Sunday of Easter

(Text links are to Oremus Bible Browser. Oremus Bible Browser is not affiliated with or supported by the Evangelical Lutheran Church in America. You can find the calendar of readings for Year C at Lectionary Readings
For lectionary humor and insight, check the weekly comic Agnus Day.
Gospel Reflection
As the scene opens, Jesus is walking in Solomon's Colonnade in the Temple courts. In the Old Testament, Solomon was known for his great wisdom. The wisdom of Solomon remains legendary, but Jesus' wisdom far surpasses that of Solomon, who eventually disobeyed many of God's commands to him, i.e. marrying many wives, stockpiling gold, and even worshiping other gods. (See 1 Kings, Proverbs and Ecclesiastes for more of Solomon's story).
The people around Jesus in this passage are not so different from people today. They want to know what is true; they decide to ask Jesus directly whether he is the Messiah. It seems that this isn't the first time these people have asked Jesus whether he is the Messiah. For Jews, who have waited hundreds of years for the Messiah to come, it is hard to believe that this relatively uneducated, plain, and peace-seeking person can possibly be the promised Messiah, who will liberate his people.
Like so many people when they hear a word from God in their hearts, they want to hear it one more time before they can embrace it as truth. They just aren't sure whether they can believe what seems so strange.
So Jesus tells them that his works testify about him. Healing miracles, his teachings, and his unique way of pointing people to God were his testimony. In its best form, testimony gives proof about something. It also reveals truth. The works of Jesus do both of these things, but like people of today, not everyone is convinced of the truth of Jesus' testimony.
In the King James Version, Hebrews 11:1 says  that Faith is "the evidence of things unseen." While some theologians have made strong and convincing arguments in favor of God's existence and Jesus' divinity (Lee Strobel's The Case for Christ, for instance), it isn't possible to fully prove these things in a courtroom. Faith is required.
Jesus describes people of faith as his sheep. As sheep follow their shepherd, they come to know his voice. In the same way, as we follow Jesus, we come to know his voice. We don't have to wonder who Jesus is; we know he is the Messiah because we know him through the Bible and our faith, and because his works in our lives have testified to us about him.
Discussion Questions
If you consider yourself one of Jesus' sheep, what has led you to believe in and follow Jesus? If you don't, what is holding you back from believing and following him?
Why do you think those without faith have a difficult time understanding who Jesus is?
What events in your life have testified to you about who Jesus is?
What helps you recognize Jesus' voice?
Activity Suggestions
Jesus describes his faithful people as sheep. Do a little online research about what sheep are like. What qualities of sheep remind you of being a follower of Jesus? Do you feel any differently about the analogy Jesus used, which is also found in Psalm 23?
Closing Prayer
Dear Jesus, Thank you for giving us your works and your word to testify that you are the Messiah. Help me to follow you in faith and to better understand who you are through your works in my life. Amen.
The post May 12, 2019–How Do You Know the Truth? appeared first on Faith Lens.
Tuesday, April 30, 2019
May 5, 2019–More Than Conquerors
<![CDATA[
Paul Baglyos, Baltimore, MD

Warm-up Question
A familiar Easter hymn calls Jesus the "risen conqu'ring Son."  In Romans 8 Paul says we are "more than conquerors" through Christ.  In a world which has much tragedy and suffering, what does Paul mean? Are we really more than conquerors?  How?
More Than Conquerors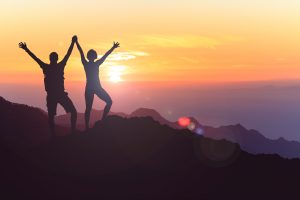 Two weeks ago, on Easter Sunday, terrorist explosions destroyed three churches as well as four hotels in Sri Lanka.  Less than one week earlier, a massive fire threatened to destroy the Notre Dame cathedral in Paris.  News accounts and images of those events and their aftermaths are widely available on the web.  Many noted how particularly painful these events were, coming as they did, in the season when Christians celebrate the Resurrection.
Discussion Questions
What were/are your reactions to the news about the Notre Dame fire and the Sri Lanka bombings?
Are those stories of any concern to you?  Why or why not?
How did other people you know react to those stories?  What did you hear or read from other people about the fire and the bombings?
Third Sunday of Easter

(Text links are to Oremus Bible Browser. Oremus Bible Browser is not affiliated with or supported by the Evangelical Lutheran Church in America. You can find the calendar of readings for Year C at Lectionary Readings
For lectionary humor and insight, check the weekly comic Agnus Day.
Gospel Reflection
We know that the church is people rather than buildings, but many people who belong to the church identify with the buildings in which they gather for worship, prayer, and devotion.  The burning of Notre Dame brought sorrow to many people around the world because of the religious and cultural heritage the building represents.  The churches in Sri Lanka were targeted because the bombers knew those buildings would be full of people on Easter Sunday morning.  The bombers wanted to kill people and the churches they targeted provided strategic opportunities for their gruesome intentions.
These recent events offer spectacular reminders that the church is not exempt from the hardship, suffering, and evil which afflict the world.  At Easter the church rejoices in the good news of Christ's resurrection from the dead, often singing "Thine is the glory, risen, conqu'ring Son."  But the risen Christ remains also and always the crucified Son, the one whose hands and side eternally bear the marks of his execution on a cross (see John 20:24-27).  Jesus conquered death, not by wielding its power as a retaliatory weapon, but by enduring its torment with an unshaken trust in God's love and promise.  For Jesus, conquering death meant not evading its grasp, but acting upon the knowledge that God's embrace of us is certain and secure.  So the "risen, conqu'ring Son" continues to act in our world and in our lives.
Jesus tells Peter – impulsive, impetuous Peter – that a time will come when he (Peter) will be led where he does not wish to go.  Perhaps in this puzzling statement Jesus seeks to remind Peter that the community of resurrection witnesses shares the same vocation as its resurrected Lord, to witness to God's love in the midst pain.  As it is for Christ, so it must be also for the church.
On Easter Sunday, amid the news of the church bombings in Sri Lank, ELCA Presiding Bishop Elizabeth Eaton tweeted these words from Paul's letter to the church in Rome: "Who will separate us from the love of Christ?  Will hardship or distress or persecution or peril or sword?  As it is written 'For your sake we are being killed all day long' . . .   No, in all these things we are more than conquerors through him who loved us."
Christians are more than conquerors because Christ their Lord is conqueror.  For us as for him, however, we conquer not by evading the grasp of death, hardship, suffering and evil, but by facing such torments in the trust that God's grasp is more certain and secure than any of those things, and that nothing can separate us from the love and the promise of God who holds us eternally.
Like Peter, we too will find ourselves at times being led where we do not wish to go.  Remember how Jesus prayed in Gethsemane before his arrest, "Father, if you are willing, remove this cup from me"? (Luke 22:42)  We go knowing that Christ himself is the one leading us, calling us to follow him into the places where the world's sorrow, grief, terror, and pain call out for healing and renewal.  The good news of Christ's resurrection from the dead does not put him—or us— above it all.  Rather it is our food for the journey, our strength for the mission, and our cause for rejoicing.
Discussion Questions
What do you think Jesus means by what he tells Peter in John 21:18?
In Luke's Gospel, a story about a miraculous catch of fish occurs early, in chapter 5, well before the death and resurrection of Jesus.  Do you think that John's Gospel relates a similar but different story, or that John has located the same story differently for a theological reason?
How do you understand Jesus' command to Peter to "feed my sheep"?  What did that mean for Peter?  What does it mean for you?
Activity Suggestions
Read together the words of the hymn, "Thine Is the Glory."  Discuss together whether and how you have experienced in your own life any of the affirmations in the words of that hymn.
Share with each other any favorite Easter hymns or songs and tell how and why those are meaningful to you.
Closing Prayer
Almighty God, you inspired Simon Peter to confess Jesus as the Messiah and Son of the living God.  Keep your church firm on the rock of this faith, so that in unity and peace it may proclaim one truth and follow one Lord, your Son, Jesus Christ our Savior, who lives and reigns with you and the Holy Spirit, one God, now and forever.  Amen  (Evangelical Lutheran Worship, page 55)
The post May 5, 2019–More Than Conquerors appeared first on Faith Lens.
Tuesday, April 23, 2019
April 28, 2018–Hope in the Ruins
<![CDATA[
Jocelyn Breeland, Sunnyvale, CA
Warm-up Question
What is essential to sustain your faith?
Hope in the Ruins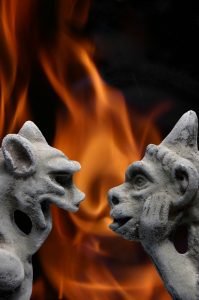 As these words are written, the fire in Notre Dame, the historic cathedral in the heart of Paris, has finally been brought under control. Memorable scenes of the day include the silhouette of the church against the towering flames, the tall spire collapsing, and mourners praying as they watched in horror. French President Emmanuel Macron has promised to launch a national fundraising campaign so the church can be rebuilt. By the time you read this, we will likely know more about the cause of the fire, the extent of the damage, and what will be required to restore Notre Dame.
Notre Dame, one of the world's most well-known churches, was completed in 1345 and over the centuries has played an important role in the life of the city and the history of France and Europe. The exterior of Notre Dame contains many scenes from the Bible, a sort of book to teach scripture to the parishioners who, at the time of construction, were mostly illiterate. The interior contains many priceless works of art, a magnificent organ, and the treasured relics of what is believed to be the crown of thorns Jesus wore before crucifixion and a piece of the cross. They were rescued from the flames.
This is not the first time the building was damaged. In 1548, Hugenots damaged statues that they believed to be idolatrous. In 1793, 28 statues of biblical kings were destroyed when they were mistaken for statues of French kings. A bombing attempt was foiled in 2016.
Within 24 hours, hundreds of millions of dollars had been pledged to the rebuilding effort.
Discussion Questions
Why do you think restoration of the church is so important to the French people that the president – a secular leader – would vow to restore it?
For people of faith what, if anything, has been lost?
If the church building where you worship were destroyed, what would be lost?
Would the loss of the building make you concerned about the congregation? Why or why not?
Second Sunday of Easter
(Text links are to Oremus Bible Browser. Oremus Bible Browser is not affiliated with or supported by the Evangelical Lutheran Church in America. You can find the calendar of readings for Year C at Lectionary Readings
For lectionary humor and insight, check the weekly comic Agnus Day.
Gospel Reflection
Thomas had doubts. He had seen Jesus die and, despite witnessing Jesus' previous miracles – including raising the dead – he could not believe that his master lived. If Thomas, who knew Jesus, had doubts, how are we, so many centuries removed, to sustain our faith?
We all have doubts. Like Thomas, we experience events that cause us to question what we believe. Even Mother Teresa, admired by many for her life of faith and charity, wrote about her serious doubts, her sense that her prayers were unheard and unanswered.
Jesus says, "Blessed are those who have not seen and who have believed." But how are we to sustain this belief, our faith in Jesus, the son of God, sent for our salvation? One answer is in verse 30, "these are written that you might believe." The Bible exists to support our faith – to teach us about God's work in the world, about the life of Jesus and his victory over sin and death.
The Gospel writers risked, and sometimes lost, their lives to spread the good news of the gospel to all people. It's hard to imagine this level of commitment if the events they recount in the New Testament were not true.
We are grateful for the gift of the Gospel and the stories and guidance that lead us to lives of faith. We have not seen but we believe. And we are blessed.
Discussion Questions
Have you, like Thomas, had doubts?
Do you share your doubts, as Thomas did, or do you keep it to yourself?
What has helped to restore your faith?
Activity Suggestions
[This activity can be done individually or in groups.]
Thinking of the warm-up question, the fire at Notre Dame and this week's Gospel selection – and your experience as a Christian – make a list of everything you can think of that can support, nourish or restore a person's faith.
Identify the items on this list that you would consider essential to Christian faith.
Now, discuss the ways you and your congregation offer or connect people to these essentials. Is there room for improvement?
Develop a plan to increase support in one of the essential areas, assign responsibility for the various tasks.
Establish a target date to implement your plan and schedule a group discussion on the results.
What worked well? What didn't?
Did you notice any changes – in specific individuals or in the community as a whole – as a result of your work?
Closing Prayer
Gracious Lord, thank you for the gift of your son Jesus, and thank you for the gift of the Bible that teaches us and shows us the way to live lives of faith. When we doubt, or stray, draw us back to your holy word. As we are blessed, let us also be a blessing. Make us examples of your love that will bring others closer to you. In the blessed name of Jesus, Amen.
The post April 28, 2018–Hope in the Ruins appeared first on Faith Lens.
Tuesday, April 16, 2019
April 21, 2019–Back From the Dead
<![CDATA[
David Delaney, Salem, VA
Warm-up Question
Surprise! Some surprises are welcome and others are not. When was the last time you had something truly unexpected happen to you? Can you think of an example that thrilled you and another one that devastated you? Did you get an A on a test when you expected a C? Did your trip get canceled because of weather? Was there a fantastic plot twist in a movie you saw or a book you read? Did someone who you thought was a friend betray you behind your back? Ever have a surprise where you couldn't figure out whether it was good or bad?
We all know someone who has such a track record of making up or embellishing stories that we're never sure whether to believe them or not. And now it sometimes seems like social media presents mostly suspicious or unconfirmed information. How do you decide whether to believe something you hear or not? Do you tend to quickly believe something that sounds sensational or are you more of the skeptical type?
We have come to the end of the Lenten season. Did you take on any special extra faith-forming activities for Lent this year as people often do, such as depriving yourself of a certain food or treat? How has that Lenten discipline gone this year for you?
Back From the Dead
Recovering from opioid addition can be like dying and coming back to life.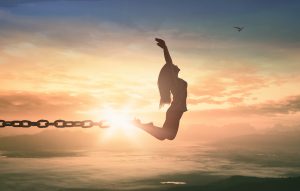 Too many of us know someone who has lost a loved one to a drug overdose or whose life has been dominated by a friend's substance addiction disease. As noted in a recent report from Spectrum Health Systems, "There's a stigma against people who struggle with addiction that often exists because people believe it could never happen to them – but it can. Addiction is a disease that knows no boundaries, has no preconceived notions and leaves no clues as to who it will touch next." Our prejudices also make us presume that someone who develops such an addiction is probably young and reckless.
The report then goes on to tell the story of a man named Jeffrey Born, aged 65, who seemed like a very unlikely person to develop an addiction, but who received heavy doses of painkillers while hospitalized for a life-threatening workplace injury. While still in the hospital, he developed an addiction to those medications, which he realized when the doctors tried to wean him off of them. The ongoing pain was so severe that it affected Mr. Born's normal good judgment, and he began seeking other sources of pain management, eventually turning to heroin, the only thing that gave him some relief. His near-death experience came when he unknowingly injected himself with a much stronger drug – fentanyl – and immediately fell into a coma. His girlfriend, who was with him at the time, quickly called EMTs, who arrived in time to administer Narcan to save him, but the experience left him in a terrible dilemma.
In what he described as a turning point, Mr. Born realized how much his life had deteriorated. "By then, my life was in shambles," he said. "I was about to be evicted and homeless. My family barely spoke to me. My life was a horror story because of drugs." He decided that the pain of withdrawal and the work of recovery was the only choice he had to avoid dying from his addition as well as continuing to burden those around him, so he sought out a treatment program. "My life has changed so much in long-term recovery … I made amends with my family and friends, who I drove away with the lies I told to cover up my addiction. Making amends with them was the most important thing to me, especially restoring my relationship with my son."
Discussion Questions
Can we think of any stories or experiences of hopelessness in our own lives or in the lives of our friends? What is it like to feel like you have no good choices in a situation or that there is no future?  What was the outcome of those situations?
The key turning point in Mr. Born's life was realizing that he was completely unable to help himself.  Early death was his inevitable future unless he turned to someone else who could guide him to new life.  Doing this is harder than most people realize, because it's so hard to envision new life while still in the grip of impending death.  What things to people often love or cling to that are destructive but so familiar that they can't surrender them?
Mr. Born's choice to do the hard work of recovery happened because he saw others whose lives had been on a path toward death but had sought out the help needed to turn things around. In a way, he had to experience a kind of death of his old self in order to experience new life. If Lent is often thought of as "giving something up," Easter is the celebration of a new life. How can we develop habits year-round of leaving old destructive things behind and allowing God to lead us to new life?
Resurrection of Our Lord

(Text links are to Oremus Bible Browser. Oremus Bible Browser is not affiliated with or supported by the Evangelical Lutheran Church in America. You can find the calendar of readings for Year C at Lectionary Readings
For lectionary humor and insight, check the weekly comic Agnus Day.
Gospel Reflection
All four of the gospels have a scene with the women coming to the tomb and discovering that it is empty, but only Luke has two men in dazzling clothes who say, "Why do you seek the living among the dead?", suggesting that surely they should have known Jesus would not be there, especially since Jesus had told them long before that this would all happen. Some interpreters have suggested that "The Living One" was a very early title used by Christians to refer to Jesus. That may sound silly – surely anyone who is alive could be called "the living one." But for these early believers, it's as if they knew that Jesus was somehow more than alive and that even life itself was being redefined by the new, resurrected life of Jesus. That title gets repeated in Revelation 1:18, where Jesus appears to John with the reminder that Jesus' new life is permanent and that he alone now holds authority over death.
Discussion Questions
For an Easter day gospel, this passage has the odd feature that Jesus himself does not appear! Does that suggest that the story is just as much about us as it is about him?  Go back through the passage and take note of all the verbs and adjectives that refer to the women and the disciples. Nothing remarkable about them is said until after they realize that Jesus' body is not there. Then they are perplexed, terrified, remembering, returning, telling, doubting and amazed. If we reflect on this episode about Jesus, that he truly died and truly lives again, we might have many of the same reactions.  What do we discover if we just pause quietly for a minute and pay attention to our own internal reactions to the claim that Jesus died, rose again, and still lives?
Many skeptics over 2000 years have claimed that the report of Jesus' resurrection was just the product of a group of people "in denial," who were engaged in wishful thinking and talked themselves into a fantasy story as a way of coping with their grief. And yet, none of the gospels portray people acting this way. In fact, every single one of these early believers were suspicious at first, and some – like Thomas – very much so. They only believed in the end because they were told by someone who had either seen the vision at the empty tomb or encountered the risen Jesus himself, and then those first-hand reports were shared with others in an unbroken line down to the present day. Who are the people who have shared with you that they are convinced Jesus was raised on that first Easter? What stories have you heard from them about how they came to believe that Jesus was risen?
Jesus and the disciples lived in a time when information provided by women was regarded with suspicion, if not quickly ignored or dismissed. Women were not allowed to testify in court or serve as witnesses to any business or legal activities. The disciples' reaction, then, when they heard the report that these three women brought from the tomb, is not completely surprising. Peter, however, seems to have had a change of heart that led him to go and look for himself. In our own time, do we have prejudices or assumptions that would keep us from hearing God's good news from someone we've been taught not to trust?  How do we, like Peter, have a change of heart so that, when God speaks in an unfamiliar way, we are able to listen? And how do we repent from those prejudices that made us mistrustful in the first place?
Activity Suggestions
"Two truths and a lie" is an old familiar group game where Team 1 makes three statements to the other team about one of their members, one of which is made up, and Team 2 has to guess which one is the "lie." A lot of times a plausible lie is harder to come up with than the true statements.  A variation on the game is for Team 1 to come up with three "lies" and Team 2 has to decide which one is the most believable. Would you have believed the women who were reporting the empty and the vision of angels?
We often think of Easter Day as just one day, but it is a whole season of the church year lasting almost two months! In this day of mostly electronic communication, everyone loves getting something in the US Mail! Encourage your group to send weekly reminders to each other to continue celebrating the risen Lord Jesus throughout the entire season and beyond.
Since Easter is a public holiday, we shouldn't be surprised that its central meaning – the resurrection of Jesus from death – can get lost in the middle of all the decorations and other celebrations. Have someone in your group with a Pinterest account do a search for Easter decorations. Then, as the group looks at them, notice which ones really seem to be conveying the church's Easter message about Jesus' death and resurrection, the witness of the women and other disciples to each other, and the call to faith that would follow as they spread the news
Closing Prayer
Glorious God, we offer you thanks for gathering us into the power of the resurrection of Jesus.  We pray for all who celebrate the Easter festival this day, that joyful celebrations everywhere might be places of welcome for those who are in need of new life. Help us to be struck with awe once again by the story of how you shattered the earth to bring Jesus from the grave. For all those in our lives who are convinced that they are stuck in a path toward death, fill us with confident hope and bold good news for them.  In the name of the risen Lord Jesus, Amen.
The post April 21, 2019–Back From the Dead appeared first on Faith Lens.